Vice Chancellor's Message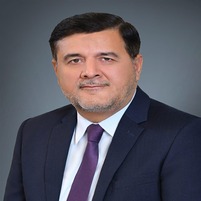 On behalf of the students and staff at the University of Chakwal (UOC), I cordially welcome all of you to a newly established yet highly aspiring educational institution of the Punjab. We are optimistic that each and every entrant will be fascinated with the commitment, passion, resolution and enthusiasm by all the functionaries of the University.
We are honored that a lot of laureates of various cohorts have been produced by the erstwhile Govt. Post-Graduate College, new part of UOC, since its inception (1949) in the field of Journalism, Art & Culture, Science, Literature, Technology, Statesmanship, Bureaucracy, Philanthropy, Education, Mining, Agriculture and Tourism. Ex-UET Taxila Campus, Chakwal also contributed laudable services to the field of Engineering and the legacy continues.
University of Chakwal would provides a conducive enjoinment to young aspirants so that they could nurture their abilities and harness their creative skills to become future leaders.
UOC offers admissions in the fields of Arts & Sciences, Engineering & Technology, Medicine & Allied Health Sciences, Law & Business Studies, "which enjoy HEC and PEC accreditation."
I assure you that this institution would provide a great platform to encourage quality education, promote research and innovation based activities while employing automation and digitalization tools.
Prof. Dr. Muhammad Bilal Khan
Vice-Chancellor
University of Chakwal